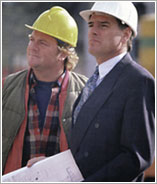 For more than 25 years, the Darren Construction affiliates have been one of Long Island's premier builders, spanning the commercial, medical, retail, and residential sector.
As an AIA affiliate member, we provide general contracting, construction management, owner representation and development services to a broad spectrum of satisfied clients.
In addition, our innovative fast-tracking construction technologies have saved our clients considerable time and money on hundreds of projects of every size and description.
Darren Construction is affiliated with the Concorde Group, one of the region's most comprehensive real
estate teams, providing construction services, property management and brokerage services.